J & J Contracting will provide a certificate of recycling for all wastes recycled from your specific project. All wastes are transported and recycled/disposed of in accordance with all applicable Federal, State, and County guidelines and regulations.
Jobsite Technicians
J & J Contracting can provide the labor to remove, package and transport all Hazardous and Universal Waste prior to demolition. Some of the materials we remove: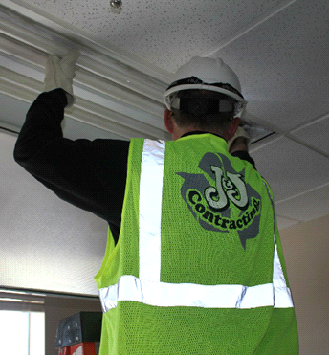 Fluorescent Lamps
Ballasts
Electronics
Batteries
Appliances
Mercury Switches
Door Closers
Fire Extinguishers
Tires
Pick Up, Transportation, Recycling and Disposal
If your company prefers to perform the task of removing the Hazardous and Universal Waste, J & J Contracting can assist you. J & J Contracting can provide the appropriate packaging materials with an on-site delivery and schedule an on-site pick up of the materials, transport, recycle and dispose of them properly.
Freon (Refrigerant) Removal
J & J Contracting provides on-site recovery of most refrigerants in a quick and professional manner, eliminating the hassle and need for multiple sub-contractors. Our certified technicians will remove the Freon only utilizing EPA certified equipment.
Certified Technicians
Certified Equipment
EPA Documentation
Refrigerant Tracking